Some of the most commonly used Sinhala dictionaries, translators and
Sinhala Proofing tools in Microsoft Office
By Theekshana R & D in collaboration with LK Domain Registry
Introduction
Sinhala Unicode input and rendering tools on digital devices have matured for the last ten years, and presently, people seem to use Sinhala input infrastructure with ease. The present effort of many researchers, institutes, and commercial organizations in Sinhala Unicode development has been directed toward developing Sinhala Spell checkers, grammar checkers, translators, etc. The following paper looks into Sinhala Dictionaries and translators in Sinhala online and offline. In addition, we tried to check if Sinhala spell-checkers and Grammar Checkers are available easily and for easy use as in English on Microsoft Word and other platforms. While carrying out the research into the above, we identified several products offline and online worthy of listing in the paper.
Therefore, we have found several online Sinhala dictionaries and translators available on the internet. It is easy to access through mobile devices or desktops. These dictionaries provide the Sinhala definition of English words along with a comprehensive description of the searched word. Following are some commonly used examples of Sinhala online dictionaries and translators among Sinhala users.
translate.google.lk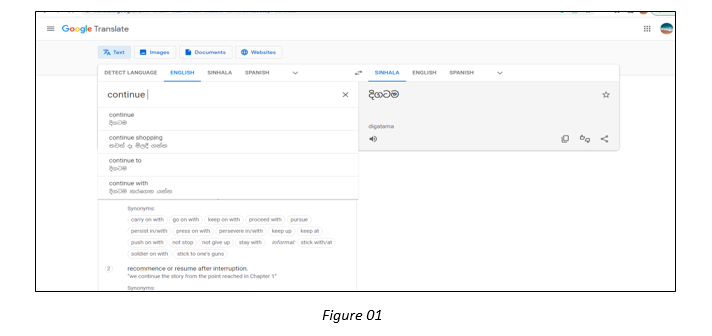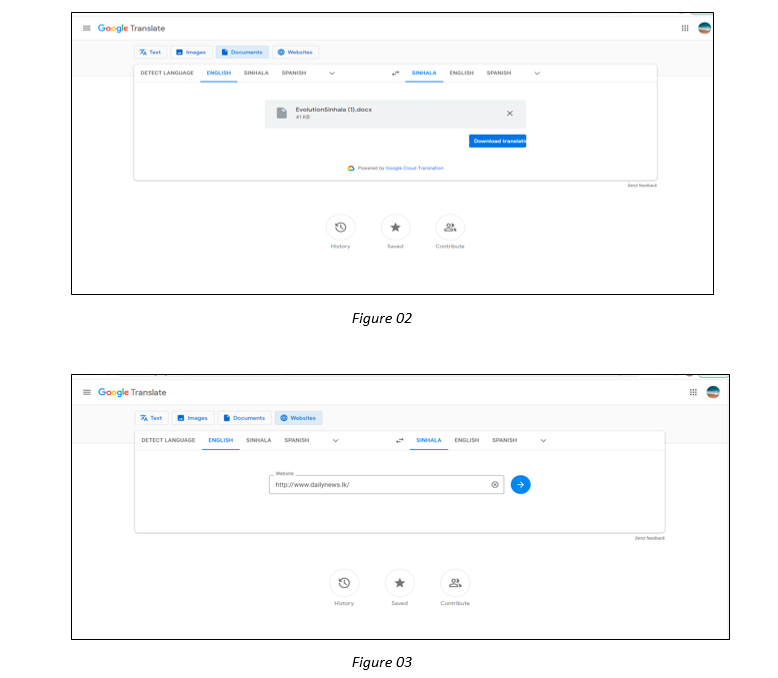 Google Translate mainly provides translation facilities for four sections. As shown in Figure 1, they are text, images, documents, and websites. Figure 02 shows an example of translating an English word file into a Sinhala document. Figure 03 shows how to use website translation. For this example, we have used www.dailynews.lk as the website.
URL: https://translate.google.lk/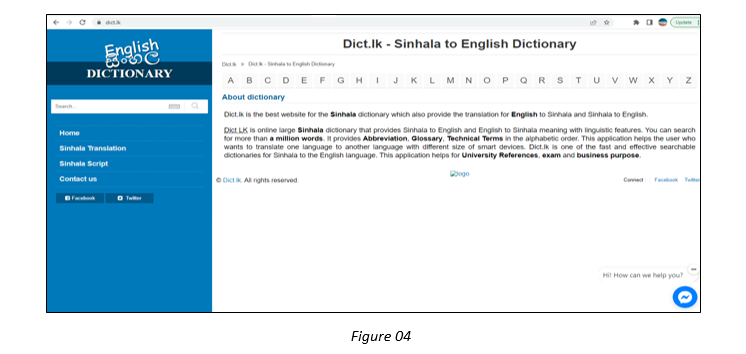 Figure 04 shows the home page of dict.lk website. Apart from the dictionary, the dict.lk site also provides language translation facilities for both English and Sinhala. Example: English to Sinhala and Sinhala to English. And also, under the Sinhala script, users can access the Sinhala to International Phonetic Alphabet (IPA) Transliteration Scheme.
URL: http://dict.lk/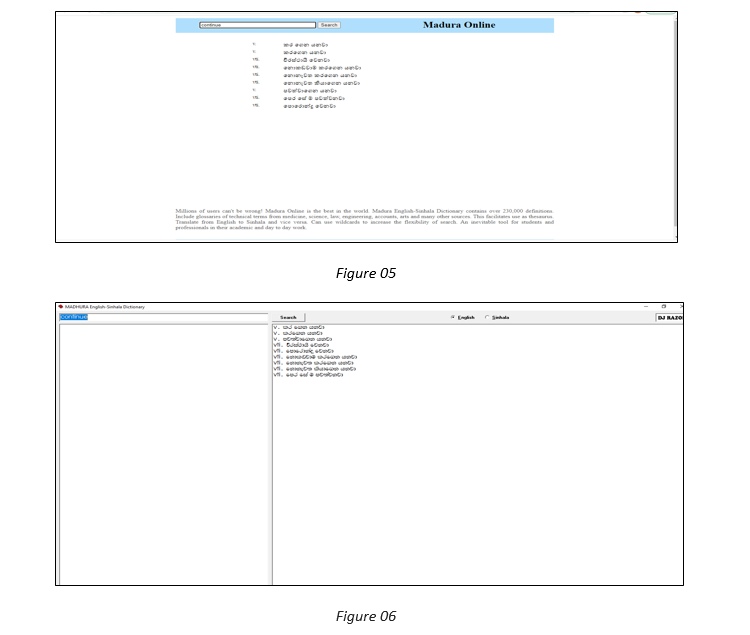 The Madura English-Sinhala dictionary is one of the most widely used dictionaries among Sinhala users. It comes with an online version, an offline version, and a Madura dictionary Android app.
Figure 05 shows the online version of the Madura dictionary. Figure 06 shows the offline version, and to use the offline version, users first need to install the Madura font on their computers.
URL: https://www.maduraonline.com/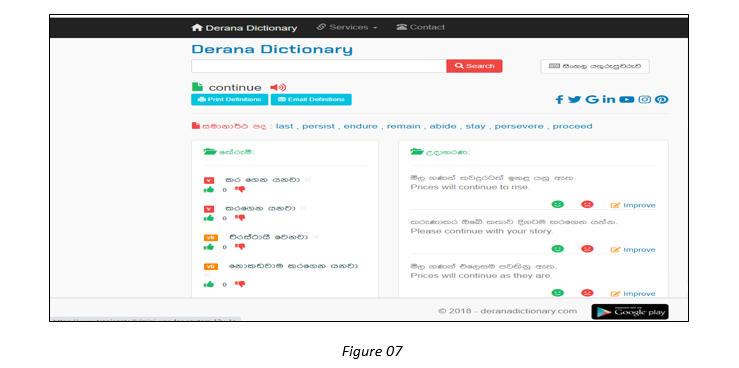 Figure 07 shows the online දෙරණ ශබ්දකෝෂය (deranadictionary), whch comes with the following facilities: English Sinhala Dictionary, Convert From Unicode, Unicode Typewriter, and Convert To Unicode.
URL: https://www.deranadictionary.com/
Sinhala Proofing tools in Microsoft Office
To add Sinhala proofing tools for Microsoft Office, first we need to install the language accessory pack. If the language accessory pack includes the proofing tools, it shows as "Installed," and if not, it displays as "Not Installed."
NOTE : Here we are using the screens of Office 2016. Screens may be changed for Office 2019 and Office 365
Steps
To check this first, go to the File in your MS Word file. Then click on the options. Now the "Word Options" window is opened as shown in Figure 08.
Next, click on "Language" as shown in Figure 08.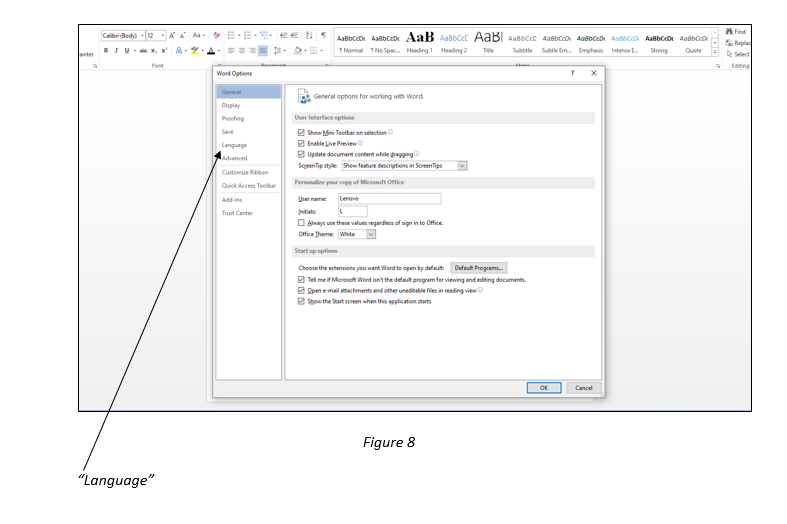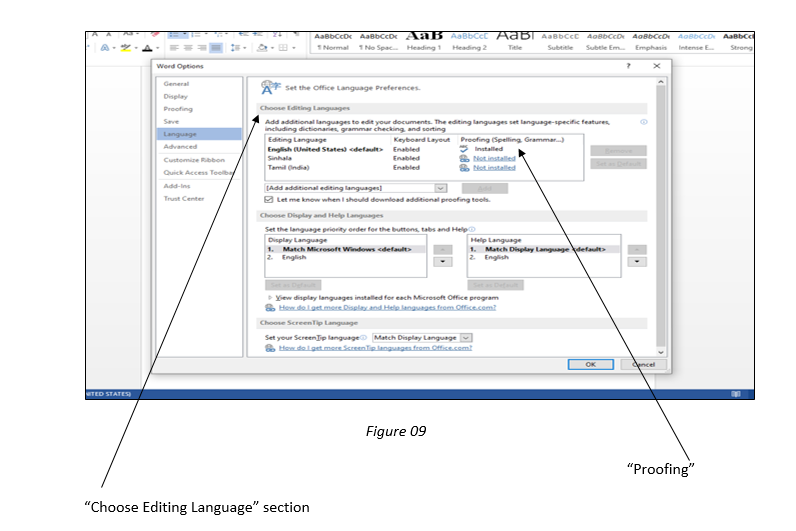 Next, as shown in Figure 09, under the "Choose Editing Language" section, "Proofing" is displayed as "Installed" or "Not Installed" according to the installation of the proofing tools for the relevant language.
Therefore, as mentioned above, first we need to install the language accessory pack.
To install the language accessory pack, you can visit the Microsoft website.
URL: https://support.microsoft.com/en-us/office/language-accessory-pack-for-microsoft-365-82ee1236-0f9a-45ee-9c72-05b026ee809f?ui=en-us&rs=en-us&ad=us
Then visit the site, and there we can select the relevant MS Office we are currently using. Next, select the relevant language from the drop-down menu.
Then we can download and install the language accessory pack.
If the language accessory pack includes proofing tools for Sinhala, under the "Proofing" section, it displays as "Installed.