දේශීය භාෂා තාක්ෂණ සහාය මධ්‍යස්ථානය වෙත සාදරයෙන් පිළිගනිමු!
WELCOME TO LOCAL LANGUAGE TECHNICAL HELP CENTRE
Theekshana R & D, a company by Guarantee and founded by the University of Colombo School of Computing, established the Local Language Technical Help Centre in 2019. It is a pioneering initiative sponsored by LK Domain Registry.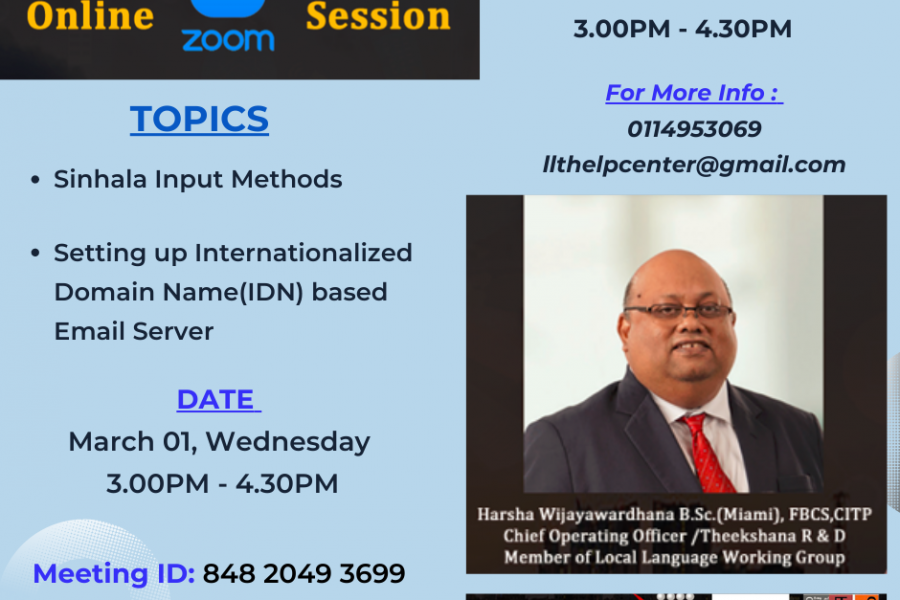 Online Technical Training Program on 01 March at 3.00 pm by Theekshana R&D in collaboration with LK Domain registry. Free and Open to the PublicMarch 01, 2023 3.00 PM – 4.30 PM Speaker:Harsha Wijayawardhana B.Sc.(Miami), FBCS, CITPChief Operating Officer /Theekshana R & DChairman – Local Language Working Group Join Zoom Meetinghttps://us02web.zoom.us/j/84820493699?pwd=WW1Nc0tWYmRvUXovN3E3OE50OUthUT09 Meeting ID: 848 2049…
Objectives of Local Language Technical Help Centre
To assist in addressing Sinhala and Tamil Localization issues when using Digital devices in local languages by having interactive mechanisms to submit technical issues and problems either through the website or by calling the helpline, and to document those issues
 To carry out Localization training through face-to-face workshops, seminars, webinars, etc.
To maintain online training materials, presentations, and articles on Sinhala and Tamil Unicode through a comprehensive website and social media and also to maintain a database of technical issues online with any solutions, workaround, etc.
To disseminate information on the latest patches and workarounds
To liaise with developers, such as Microsoft, Google, Adobe, etc., on localization products and tools to solve identified technical issues and problems
To conduct a national awareness in Sinhala and Tamil Unicode
To assist Policy Making such as ICTA and SLSI to create new policies on localization; to liaise with International bodies such as Unicode Consortium, ISO, etc. if changes or alterations require in Sinhala and Tamil Unicode standards
To assist ICTA Local Language Working Group (LLWG) in conducting its monthly meeting
Sinhala and Tamil Unicode function on all operating systems without any issues. Users have identified some technical problems and glitches unique to Software Applications. Help Centre intends to test and monitor and find solutions or workaround for those glitches and problems.     
Subscribe to our LLTHC Newsletter